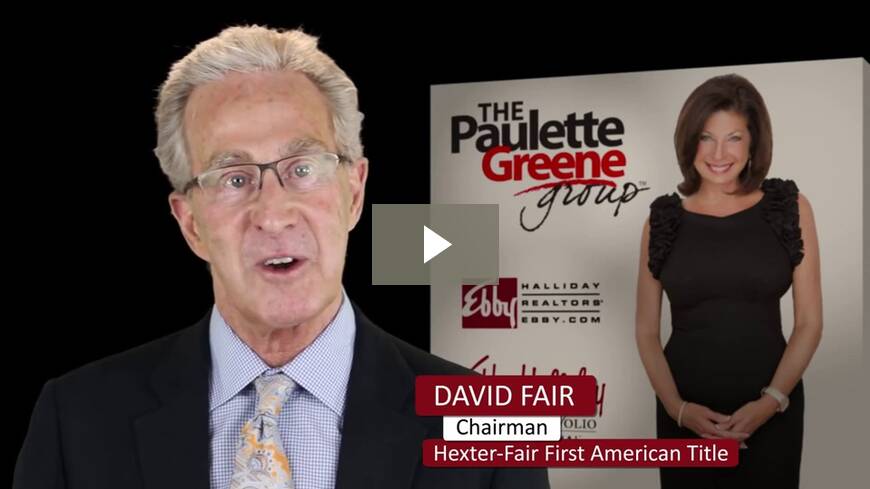 "Ebby has lived her life by a motto; which is do something for someone every day and at 103 she is still doing something for someone every day."
Love Letters
Paulette's determination, focus and enthusiasm are evident in all aspects of her professional, community, and family life. She continues to serve her clients in the Dallas / Fort Worth Metroplex and surrounding cities like Plano, Frisco, Allen, McKinney, Highland Park, Celina, and Prosper with the optimism and personal attention that have elevated her to the top of the industry.
Paulette believes that "doing the right thing creates the right results," for people just like these. But don't take it from us. Read and watch these testimonials, and then call us today! 214.957.3372
---
Greg and Margie Dess

"One of the best decisions we have made in recent years was listing our house with Paulette Greene! We had listed our home with three different agents over a period of years and were unsuccessful. However, with Paulette, we were able to sell our house much quicker than we had ever anticipated. She and her associates did an excellent job at marketing our house and they were in frequent contact with us regarding the progress that they were making. After selling our house, Paulette was able to sell us our "dream home" before it was even entered in the MLS listings! We recommend Paulette to everyone we come in contact with who is looking forward to a superb experience either buying or selling a home. Perhaps, the best thing about working with Paulette Greene and her associates is that you are made to feel as though you are their only client!"

Jim and Sue De Mille Minyard

"This summer we were buying a home and asked Paulette to help us navigate the many choices available. We were most impressed with Paulette's knowledge of the area including comparisons of neighborhoods, pricing options and detailed knowledge of each builder and their offerings. Paulette was most instrumental in direct negotiation with the builder to obtain optimal pricing as well as the inclusion of many extras. In short, we were most impressed and pleased with Paulette's knowledge of the market, attention to detail and making the buying experience flow seamlessly."

Tim and Jenny Dove

"Paulette Greene is the most amazing Realtor we have ever met. She is not only excellent in what she does, but her dedication, honest and loyalty to us was unending. She is and always will be the # 1 Realtor in our eyes."

Michael Minyard

"We moved from California this summer and purchased a home in the Star Creek in Allen, TX. My wife Lisa and I along with our new daughter Sophie are really enjoying Texas and our new home. As you can imagine, relocating can be a formidable challenge between adopting a new community, a new job (teaching school in Allen) and adjusting to becoming a Texan!"

"Paulette Greene worked with us to make sure all of the many details were exactly fitted to our needs. The array of options helped us transform a standard configuration into a beautiful custom home."

Ann Richardson

"Paulette Greene is truly a master of the "craft of real estate." As a good listener she is able to quickly pinpoint customer needs and focus all the energy on exactly what the customer wants, not just what is available. It was a pleasure to work with her and we cannot be more pleased with the work she did for us in finding our new home."

Stephen and Susan Hamn

"Thank you Paulette and your incredible team of professionals. What an amazing experience to have worked with you. Your enthusiasm and passion for what you do was inspiring. Selling a seven figure home in eleven days! I knew you were going to bat for us every step of the way. I could only wish for your ability to communicate and negotiate. My husband and I just want to say thank you not for only selling our home, but for becoming a very close and dear friend."

Del and Ann Harris

"Paulette and her team have the main ingredients. They know the market, they work hard and they care. Paulette sold our house when nothing was moving. You've become not only a client but a friend. We both give you our highest recommendation!"